From the West Boylston Banner, 2013
WEST BOYLSTON — For a third year, Flippo's Clown Camp for junior clowns and magicians is returning to West Boylston.
Sponsored by the West Boylston Arts Foundation, the three-day camp will be held in the Major Edwards School gym from 10 a.m. to 12 p.m., Tuesday, July 9, through Thursday, July 11.
Participants ages 8 to adult will learn juggling, magic, plate-spinning, levitation and more, Larry "Flippo" Rettig said.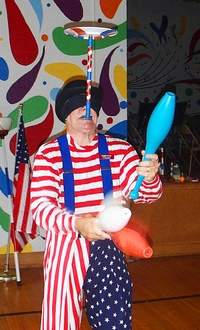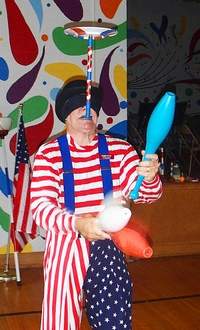 Rettig said he will supply everything from balloons to pumps, juggling scarves and balls and spinning plates to peacock feathers for balancing. Participants need only to bring the "willingness to participate in and learn the ultimate in classroom fun skills."
Rettig also said he will "supply the enthusiasm in order to create the highly contagious "giggles bug."
Rettig, a West Boylston resident, has been entertaining since 1989, according to his website. This summer, he said is performing for Oxford's Tercentennial, Davis Farmland, July 4 celebrations, Leominster Eagles Club, a number of birthday parties, festivals and fairs, and more.
Since 1994, Rettig has also taught many classes in Adult Education in the Worcester Night Life Program as well as the Marlboro Assabet After Dark Program, he said.
Rettig, who left his career at the U.S. Postal Service to entertain full time, says that his life since then has been full of "giant smiles."
"I have loved teaching all the skills that I have learned over the years, especially when I get to present a new magic trick," he said.
Rettig said his biggest challenge with the Major Edwards camp is lack of volunteer assistance.
"A couple of helpers make my job exponentially more manageable," he said. "This makes the entire curriculum flow much more smoothly."
Arts Foundation President Mark Baldi said he thinks the camp might appeal to teens who are into the performing arts.
"Learning how to juggle and do magic is always a good skill to have if you're somebody who does stage work, or likes to act or be in drama and things like that," Baldi said.
He said Rettig especially likes to get the younger people involved and teach them the tricks of the trade.
"Larry really enjoys these classes," Baldi said. "Some clowns and magicians are loath to share their secrets, but he's glad to do it."
Rettig said he is happy to share his skills.
"I have been blessed to have been given this absolutely golden opportunity to have such a positive impact on my fellow human beings, ages 1 to 101, in a big way," Rettig said. "And for that, you bet I'm grateful."
http://www.flippothejugglingmagician.com/wp-content/uploads/2019/10/Flippo-The-Juggling-Magician-logo.png
0
0
projects@coldspringdesign.com
http://www.flippothejugglingmagician.com/wp-content/uploads/2019/10/Flippo-The-Juggling-Magician-logo.png
projects@coldspringdesign.com
2019-10-02 10:35:01
2022-01-20 11:52:42
Clown Camp Returns to West Boylston for Third Straight Year